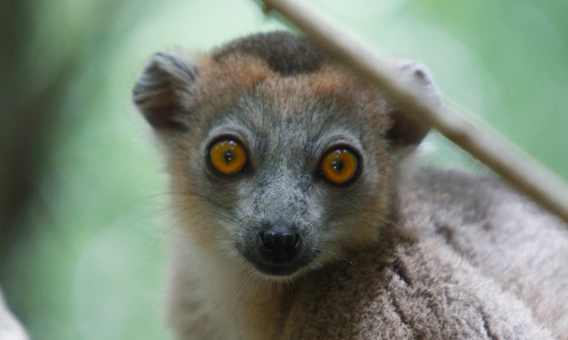 カンムリキツネザル 撮影場所 マダガスカル アンカラナ 撮影:Rhett A. Butler 2009年
マダガスカルの非営利環境団体ファナンビー(Fanamby)によると、昨年大晦日、マダガスカル北東部の町ヴォへマーでブッシュミートトレード(野生生物の食肉売買)の容疑で密猟者と思われる男が逮捕、32頭のキツネザルの死骸が没収された。
死骸の多くがカンムリキツネザル(Eulemur coronatus)と思われ、種の判別の難しい他の死骸については現在遺伝子検査が行われている。これらのキツネザルは毒殺により捕獲。キツネザルを摂取した人の人体への影響が懸念される。
| | |
| --- | --- |
| | 上:積み上げられたキツネザルの死骸の山 下:キツネザルの死骸 写真提供:ファナンビー |
これまで密猟者によるキツネザル捕獲方法には銃や罠が使われていたが、毒による捕獲は初めて。密猟の警戒が強まる中、密猟者は捜査を逃れるため狩猟方法を変えた可能性がある。
マダガスカルの多くの場所でキツネザルの狩猟はタブーとされ、キツネザルを守って来た。しかし2009年におこった軍事クーデター以降続く政治不安と、特産物であるバニラの価格下落など切迫した経済状況のためローズウッドの違法伐採が急増、それに伴いキツネザルの密猟も加速した。キツネザルだけでなく、カメ等の他の動物も捕獲されている。主な消費者はローズウッド違法売買に関与している中国人富裕層という話もある。
ファナンビーのラジャウベリーナ氏は、ブッシュミート市場の縮小には法の強化しかないと言う。公的には、キツネザルの密猟者は禁固2年〜5年の刑であるが、実際執行されることは稀である。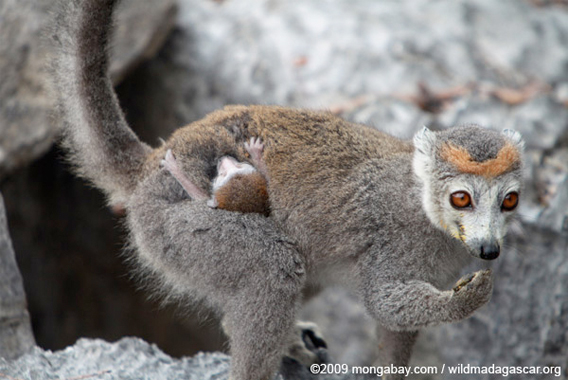 カンムリキツネザルの親子 撮影 Rhett A. Butler 2009 マダガスカル アンカラナ
Related articles
Coup leaders sell out Madagascar's forests, people
(01/27/2010) Madagascar is renowned for its biological richness. Located off the eastern coast of southern Africa and slightly larger than California, the island has an eclectic collection of plants and animals, more than 80 percent of which are found nowhere else in the world. But Madagascar's biological bounty has been under siege for nearly a year in the aftermath of a political crisis which saw its president chased into exile at gunpoint; a collapse in its civil service, including its park management system; and evaporation of donor funds which provide half the government's annual budget. In the absence of governance, organized gangs ransacked the island's biological treasures, including precious hardwoods and endangered lemurs from protected rainforests, and frightened away tourists, who provide a critical economic incentive for conservation. Now, as the coup leaders take an increasingly active role in the plunder as a means to finance an upcoming election they hope will legitimize their power grab, the question becomes whether Madagascar's once highly regarded conservation system can be restored and maintained.
Appalling photos reveal lemur carnage in Madagascar [warning: graphic images]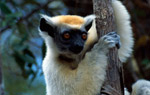 (08/20/2009) New pictures released by Conservation International depict a troubling development in Madagascar: the emergence of a commercial bushmeat market for lemurs. In the aftermath of a March coup that saw Madagascar's president replaced at gunpoint by the capital city's mayor, Madagascar's reserves — especially in the northern part of the country — were ravaged by illegal loggers. Armed bands, financed by foreign timber traders, went into Marojejy and Masoala national parks, harvesting valuable hardwoods including rosewood and ebonies. Without support from the central government — or international agencies that pulled aid following the coup — there was no one to stop the carnage. But now it emerges that timber wasn't the only target.
Lemur hunting persists in Madagascar, rare primates fall victim to hunger
(07/17/2005) While it has been illegal to kill or keep lemurs as pets since 1964, lemurs are hunted where they are not protected by local taboos. Many lemurs are particularly easy targets for hunting because evolution has rendered them ecologically naive in that without natural predators over the majority of their existence, they are less fearful than they should be.